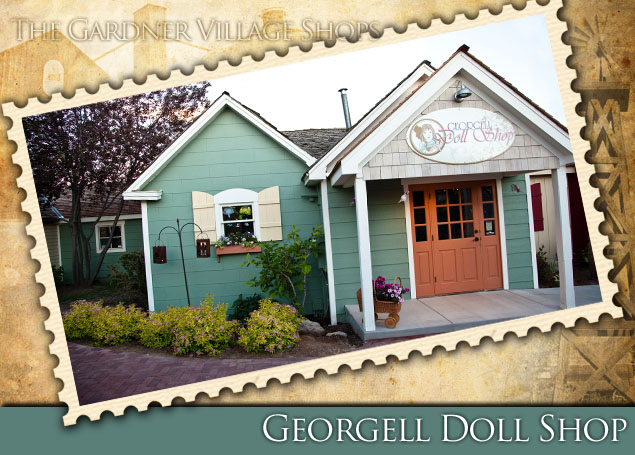 The Georgell Doll Shop at Gardner Village "where memories stir and pretending begins…" come see this year's adorable Madame Alexander dolls, the sweet Wendykins, Huggums and Pussy Cat dolls.
Baby Dolls are always a joy. Soft French Corolle babies, Life-like Berringers and huggable Adoras. Pick out extra clothes for a baby's layette.
Porcelain dolls are delightful and delicate. Georgell Doll Shop has Marie Osmond dolls and tiny Victorian dolls that fit in your hand.
You'll love dress up "Paddy Wack" dolls and books for young children and Calico Critters for collecting. Look for old friends like Raggedy Anne and new friends like stuffed and dressed Rabbits and Mice from Denmark. Enjoy art dolls from Robert Tonner or Diane Effner.
Our 18" doll shop has the largest selection of 18" doll clothes and accessories in Utah. Each season brings new popular outfits, dresses, pants, skirts, tops and shoes. Everything you need for your American Girl, Journey or Gotz Doll. You may also find a new 18" Alexander or Adora doll friend.
In the spring, we have "Dolly and Me Dress Up Tea Parties". In the summer our "Tiny Teas" are in the "Fairy Garden." The fall and winter Holidays are a wonder.
Come to our cottage shop. It's a charm and delight.
Georgell Doll Shop at Gardner Village
West Jordan, Utah
Phone - 801.561.1485
Click for More Information