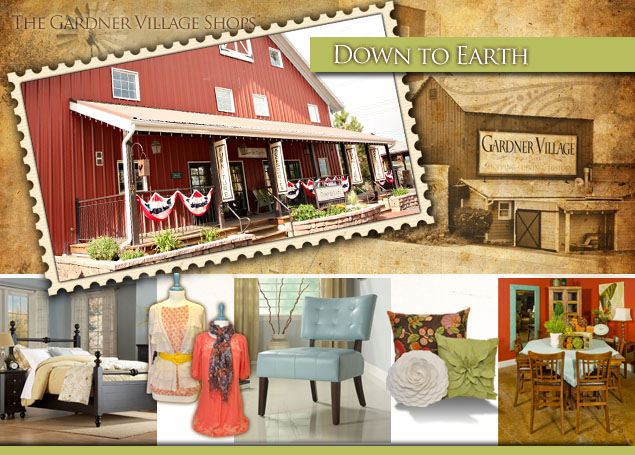 At Down to Earth at Gardner Village in West Jordan, Utah, just outside Salt Lake City you can buy everything you want and need to create your dream home at this furniture store. You'll find stylish and sleek wood dining room furniture, bright and colorful living room sets and dream-worthy bedroom sets; or, you can buy the bright and playful touches that make your basics come to life.
The main floor is swimming with color, pattern and texture sure to freshen up your home. Choose from an assortment of table settings, pillows, mirrors, artwork, silk flowers and sophisticated vases. Down to Earth at Gardner Village will surprise and delight your senses and emotions from the moment you walk through the door. The newest addition to our accessories is clothing, building upon a love for color and pattern for the home and translating that in to what you wear.
On the way upstairs, you'll pass a wall of clocks and lovely art. On the second floor, you'll find classier bedroom sets done up with plush fabrics. Down to Earth at Gardner Village has the largest selection of accent chairs, with over 60 delightful chairs ready to go home with you today. If you prefer to take the time to create your ideal sofa, allow one of our talented staff to help you custom order the perfect piece from over 1000 fabrics.
Down to Earth at Gardner Village
West Jordan, Utah
Phone - 801.984.4105
Click for More Information