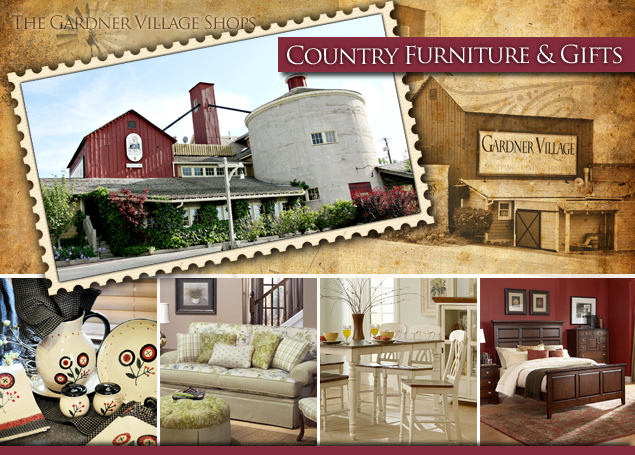 In a world of big box furniture stores that all look and feel the same, Country Furniture & Gifts at Gardner Village is a breath of fresh air. Housed in an old restored flour mill built in 1877 by Archibald Gardner in West Jordan, Utah, the setting is warm, friendly and inviting. The mill makes a unique and charming backdrop to the lovely furniture and rugs we sell. We like to think of country as easy living, comfortable and family oriented. No stuffiness here, just practical, beautiful and timeless furniture to enrich your home and family life.
Country Furniture & Gifts at Gardner Village is located just outside of Salt Lake City, Utah. We offer a beautiful and wide selection of quality sofas, chairs, and sectionals for family and living room areas. Select your fabric and favorite cozy style and we'll order it just for you. Our dining sets are sure to delight you! We offer smaller sets for the cozy nook to the grand-sized Thanksgiving family style set with seating up to 14 people and tables that extend to 149"! You'll find a variety of woods from solid birch and many stain and paint combo options. Be sure to check out our amazing rug room and the old rock walls tucked in the basement of the mill. We offer the timeless braided rugs – many still made in the USA and hooked and machine-woven rugs in beautiful updated colors and patterns. A rug makes a huge impact for a minimum investment to any room.
Last but not least, we offer an ever changing array of home accessories and giftware. A home is never finished until the small details are in place. Country Furniture & Gifts at Gardner Village has the perfect additions and updates to keep your room updated, interesting and finished perfectly. We offer a great selection of shelves, pictures, lamps, clocks and all the trimmings to personalize your home and make it reflect your unique style and that of your family. Come visit Country Furniture & Gifts at Gardner Village today and let us help you design your perfect living space!
Country Furniture & Gifts at Gardner Village
West Jordan, Utah
Phone - 801.566.2842
Click for More Information