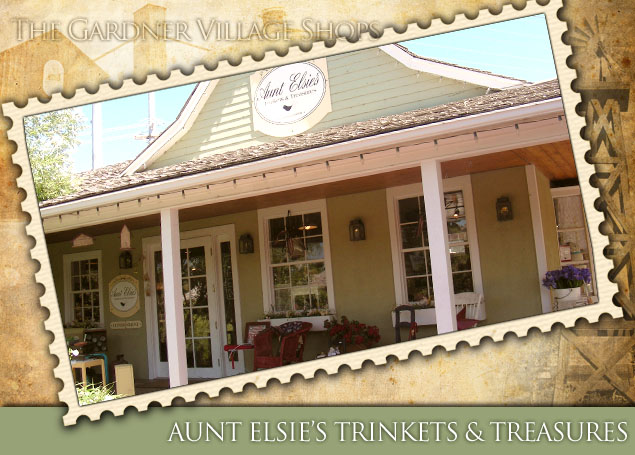 Meander through Aunt Elsie's at Gardner Village in West Jordan, Utah just outside Salt Lake City. This eclectic consignment shop with many one-of-a-kind vintage trinkets, antiques and Utah-made treasures. The store boasts a large selection of home décor and gently-loved furniture, as well as original hand-crafted gift items, cabinets, jewelry, china, silverware and more. Take time to stop by with friends or family, enjoy the warm and inviting atmosphere and see what waits for you inside.

If you enjoy the warm ambiance of this vintage shop, you'll be happy to know they've added even more flavor…TEA. Discover a great selection of green, black and herbal teas and all of the necessary accessories to make the perfect cup. Come visit soon for a "free" sampling.

CONSIGNORS WANTED: If you have nostalgic, vintage or antique furniture and home decor you'd like to sell, come see us at Aunt Elsie's at Gardner Village. It's a wonderful way to recycle your treasures.


Aunt Elsie's Trinkets & Treasures at Gardner Village
West Jordan, Utah
Phone - 801.561.5557
Click for More Information